Wine Tasting, Cellar Door, Restaurant
Open 7 Days, 11am-5pm
Closed Christmas Day, Good Friday
Visit us today for a family friendly Tasmanian cellar door, vineyard, wine sales, views, food, cake & coffee experience near Hobart & Port Arthur.

 
Bangor Restaurant Book Online
We are open for meals from 11am everyday (kitchen closes 4:30pm). We recommend booking a table, particularly on weekends and public holidays. Book online, or call us (03) 62 535 558.
Meals
With a deep connection to the land, we're passionate about quality food. Teaming up with local growers and producers who share our passion, we craft dishes featuring exceptional ingredients from the Tasman region. Our menu evolves with the seasons, offering fresh, authentic Tasmanian cuisine.
We showcase outstanding ingredients from the land and sea around us, starting with our very own Bangor lamb. Our oysters are freshly harvested from the bay in front of you, craft cheeses and milk from beautiful Bream Creek, quail, venison, and greens all from the Tasman Peninsula.
Wine Tasting
Open 7 days, 11am-5pm
Join us for a wine tasting at the bar any time, no booking needed. You can also book a tasting with your restaurant table booking.
Our cellar door is open daily for takeaway wine and gifts. We can also post to your door, anywhere around Australia.
Paired tasting - looking for a fun wine and food pairing experience? Book a Black Glass Wine Tasting today, or ask us when you arrive.
Wine, Food, Nature & Heritage – Nourish You @ Bangor
Overlooking the vineyard and picturesque Boomer Bay, the Dunbabin family have built this special place to share their wine and other premium Tasmanian produce with you. Pop in for a tasting and a glass of wine, enjoy a relaxed lunch, or chat to our team about booking your next private event, wedding, or corporate function. Bangor is all about fine wine, fresh local produce, sweeping views, and a warm rural welcome that'll make you want to stay awhile. You can order your wines direct from the cellar door, or from our online wine store. We will post your wine direct to your door - Australia-wide.
Join our Wine Club for FREE postage and other member benefits.
Caring For The Environment Every Day
Bangor is a 6,100 hectare property farmed since the 1830's for supplying beef to the Port Arthur Settlement, and cared for by the Dunbabin family since the 1890's. With over 5,100 hectares of native forests and wetlands, 35 kilometers of coastline and 2,100 hectares of private nature conservation reserves, caring for the environment is a way of life at Bangor.
Bangor is carbon positive. We store significantly more carbon every year than we emit, 1,500 tonnes more. When you visit Bangor you're supporting the environment through the conservation work here.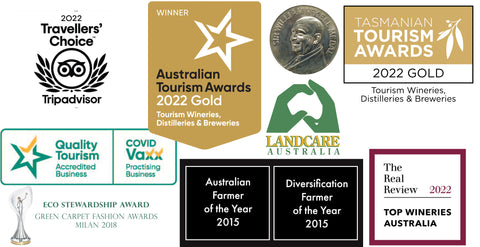 Functions at Bangor Shed
Looking for the perfect place to have your:
Email us at Bangor Shed to learn more about our options for menus, live music, coach travel and more.
Email: functions@bangorshed.com.au
Take a virtual tour of Bangor Vineyard Shed
Inside: Bangor Vineyard Shed has been architecturally designed to reflect the natural environment of the Bangor property. The building showcases Tasmanian Oak timber on the ceiling, floors, table tops and bars. Stone from Bangor's paddocks forms the walls around the building and the front of the bar. Convict bricks from Captain Spotswood's cottage line the hearth of the fireplace.
Outside: Bangor Vineyard Shed has stunning views over the vineyard and surrounding paddocks, and looks out onto both Blackman and Norfolk Bays. You can take in the sheep grazing in the paddock and the vines growing in front of you from our spacious deck area. There are picnic tables on the lawn and a cubbyhouse and sandpit for the kids.
How to Find Us - Map
Bangor Vineyard Shed
20 Blackman Bay Rd, Dunalley, Tasmania

(03) 62 535 558
Bangor Vineyard Shed is perfectly located on the Arthur Highway (A9), half way along the main tourist route from Hobart to Port Arthur.
We are situated 45 mins from Hobart CBD, 35 mins from Hobart Airport, and 35 mins from the Port Arthur Historic Site. The perfect stop on your day trip to the Tasman Peninsula.
Travelling around Tassie? We are a 40 min drive from the historic town of Richmond. If you are coming down the east coast, we are a 60-70 min drive from Orford.
Nearby Attractions
Looking for ideas for your trip to Tassie? Some of the big attractions for visitors to the south of the state are: MONA, the Saturday Salamanca Markets, kunanyi/ Mount Wellington, the Royal Tasmanian Botanical Gardens, and the Tasmanian Museum and Art Gallery.
Interested in visiting other Tasmanian wineries while you are here? Check out the Tasmanian Wine Trails Guide.
Bangor Vineyard Shed is ideally located on a day trip from Hobart, and on your way to and from the many attractions on the Tasman Peninsula, including: